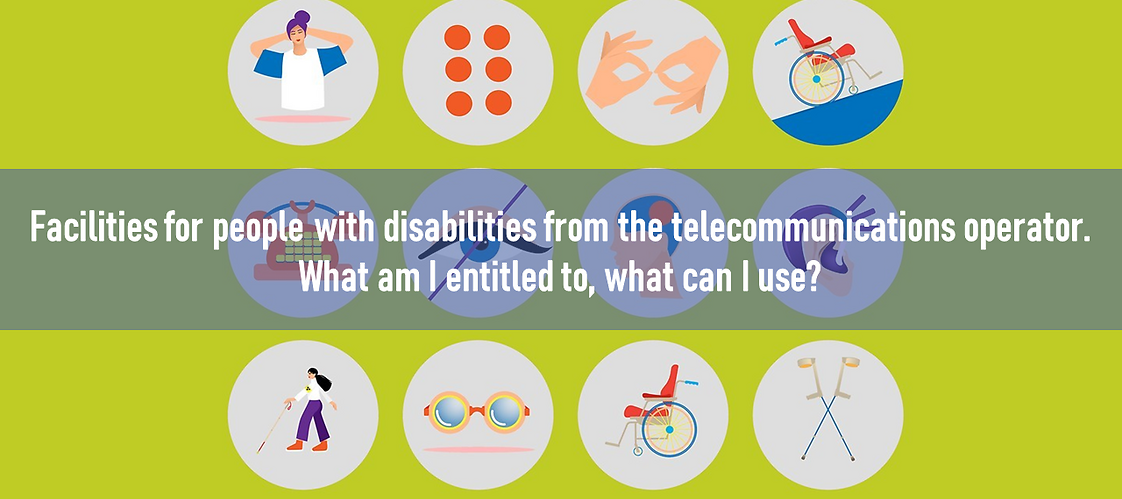 Facilities for people with disabilities from the telecommunications operator. What am I entitled to, what can I use?
Thanks to the facilities offered by telecommunications companies on the telecommunications market, people with disabilities can use electronic communications services in the same way as all of us.
What does this mean in practice? A person with a disability can:
1. enter the customer service point or salon on a wheelchair;
2. receive invoice, information, documents in Braille;
3. talk to a customer advisor through a Polish sign language translator (interpreter);
4. receive documents by e-mail which will be then read by the reading program;
5. get help with their phone configuration or with tablet settings;
6. purchase a terminal device adapted for use by people with hearing disabilities.
Since 2018, Office of Electronic Communications (UKE) every year has been checking whether telecommunications companies fulfill their obligations and what kind of facilities they provide. In total, since 2018, 189 inspections of Customer Service Offices have been carried out in Poland.
In addition to checking compliance with the regulations, UKE sets an internal and external standards. In 2020, in cooperation with the Foundation 'Integracja', we developed recommendations for telecommunications and postal operators (known as: Recommendations for telecommunications and postal operators "Connectivity - telecommunications and postal services for people with special needs") indicating directions of changes and solutions to ensure the availability of services for various groups of users regardless of their age, gender, physical parameters, fitness level, habits, preferences and other factors.
The document contains information that constitutes guidelines for both markets. Their purpose is to facilitate entrepreneurs in the implementation of activities in the field of designing and implementing solutions which meet the needs of people with disabilities.
The consumer survey conducted in 2021 revealed that the awareness of facilities among customers with disabilities is low. Only 14% of all respondents knew that telecommunications operators were obliged to provide facilities for people with special needs and 10% of them knew which facilities they could use. What is more, only 18% knew where to look for the benefits they were entitled to.
During the 2022 inspection, which took place from 1 September to 10 October 2022, we checked 51 Customer Service Offices at 16 operators operating locally, based in 16 voivodships in Poland.
The following elements were analysed:
• Signage of the Customer Service Office;
• Architectural accessibility;
• Amenities provided;
• Support for deaf and non-speaking people;
• Support for the blind and visually impaired;
• Access to end devices.
The general level of ensuring accessibility by operators is not very satisfactory. In 70% of inspected Customer Service Offices it was decided to issue post-inspection recommendations. The general conclusion was that the probability of violations is the greater when/if the smaller the controlled entity is.
The most common errors in the provision of amenities include:
• the lack of pictograms informing about services for people with disabilities;
• violations/obstacles in the architectural area (difficult access, customer service station not adapted to serve people with disabilities).
The results of the 2022 inspection show that the largest local operators provide services to people with disabilities at a lower level than cable and mobile operators.
A higher level of service in Customer Service Offices was noticed in the group of the 4 largest mobile operators and 2 cable operators, controlled in the Mazowieckie Voivodeship. The biggest problems are the lack of pictograms informing about the service for people with disabilities and violation of the obligations to provide facilities for people with disabilities in the architectural area.
Detailed results of the inspection you may find here:
https://bip.uke.gov.pl/raporty/raport-dostepnosci-bok-2022,69.html