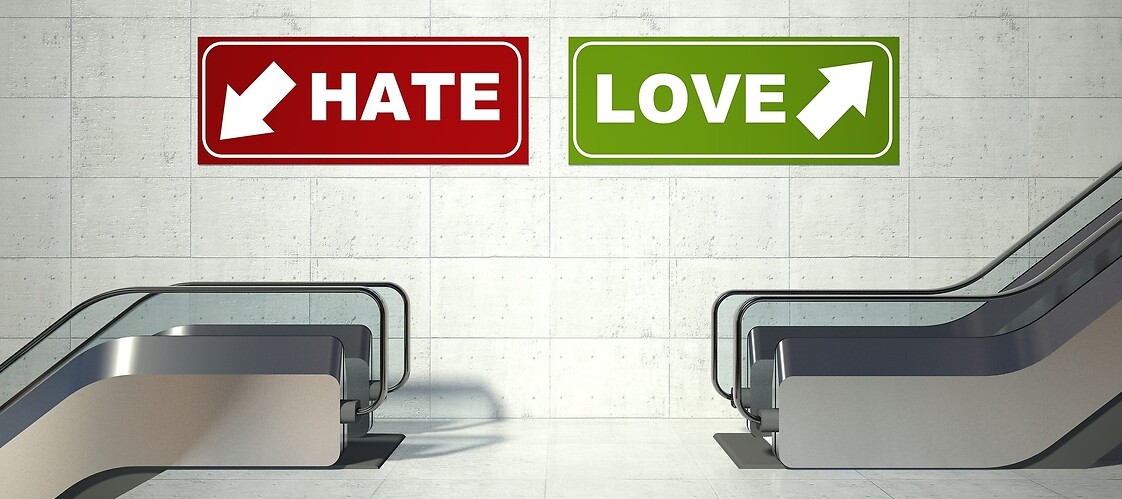 Hate during pandemic
The situation in which we have found ourselves, has shown that most people can unite for the common good, it is a time of mutual support and help. Unfortunately, it is also a wave of hate, which is grownig stronger every day. During an insightful, week-long observation of social media and news portals, it turned out that the mutual support we offer each other is on a par with the hatred we suffer for it.
In many cities, people who spontaneously organized in groups, were involved in the delivery of meals for first-line doctors and for the elderly, who are in the highest risk group. All the media publicized this action to reach as many people in need and donors as possible. People from the headlines, influencers and ordinary people got involved. What could have caused resentment and aggression in such an undertaking? First of all ,the engagement itself. If the volunteer is not a known person and will share the photo on his profile in social media he will get a few likes or hearts from friends, someone will write a nice comment and that's all. But if someone is known in social media (and not only), then there are many more comments and reactions. The post of such a person sometimes reaches tens of thousands of followers. Some of them will respond positively and others will write something unpleasant.
The exemplary comments accuse people taking part in the action of wanting to promote themselves, get famous, helping for show, expose the elderly to the disease (although the meal is left at the door, then the volunteer rings or knocks on the door and moves away to keep a safe distance). In many recordings of the delivery of meals we can hear the emotions of the elderly people and their gratitude. But online haters, who are sitting securely at home, don't mind judging other people who want to do something good. However, if a person has declared that he will take part in such an action, and later didn't show it in a movie or a photo, haters complain that he doesn't keep promises and probably did not help anyone, just wanted to be seen as a good and committed person.
Another example of the scandalous behavior of our society, not only on the Internet but also in the real world, is hate which affects healthcare workers. From the first days of the appearance of the coronavirus in the world, it is the medics who are the most vulnerable social group. They are in the front line against coronavirus in all the affected countries, they help the patients recover and they put their health and life at risk. After their appeals that they face shortage of personal protective equipment, many entrepreneurs and private individuals began to help. The media emphasize the important role of medics, the government representatives express their gratitude, and the ordinary citizens organize applause to the medical services. And here again hatred appears. Why, someone who can help us or our loved ones in a situation of danger to life or health, meets with reluctance? It is worth noting that these are not people who did anything wrong, the only reason - they work in the healthcare. Stress and fear, which is growing in some people causes harassment of this group. There have been many reports in the media on this topic. One of the doctors' neighbors spilled paint on her door and demanded she move out, because she will infect them. In another city, doctors or nurses are avoided by their neighbors. One of the nurses reported that her sister asked her to leave the things she was supposed to pick up from her on the doormat, because "maybe she had brought something from the hospital". Another unfortunate event took place in Gliwice, where one of the nurses' car was destroyed, someone wrote on the car body "plague". We can find tons of comments on the web that offend people, who are so badly needed during a pandemic.
The spontaneous action "I am not afraid of the medic #frontline" has already been initiated, which is a response to the fact that some shops, car workshops or restaurants providing food, refuse to service people working in the health care. The number of such events is growing day by day, but also more and more people show solidarity with the so-called front line. On the Facebook profile, which was created recently, you can download posters in order to place them in your store or restaurant, for example. The founder and originator of the campaign in a radio interview, emphasized that it is not about getting close to the medics, hugging them or other close contact, but we also cannot allow psychological violence and hate. We should treat them in the same way as everyone else, i.e. in accordance with the recommendations of maintaining a distance of 2 meters.
It is worth remembering that medics are people who know how to protect themselves, they know the rules like no one else, and usually follow them more strictly than the rest of the society.
Instagram is another portal where we can find a lot of hate. All we have to do is look at a few profiles of the most popular people and look at their activities. The profile of a doctor who tries to convey reliable medical knowledge in an accessible way, runs her own business, privately a cooking enthusiast. At first glance, there is nothing to pick on. The photos are fine, she doesn't publish any inappropriate content, she doesn't offend anyone, she doesn't cooperate with commercial companies, so her account is not an advertising column (placing ads on profile is controversial). Still, there are plenty of haters. The first claim is that she is not much of a doctor, because she took time off and takes care of children instead of working in a hospital (this doctor is not a specialist in infectious diseases or lung diseases, she is a gynecologist).
It is very easy for hundreds of people to assess someone's situation and professional position, in their opinion they know better how she should behave. She became the victim of a wave of hate, because during the recording of an instastory one could hear her four-year-old son call her by name. At first, it seemed unbelievable that such a thing could irritate unfavorable observers, but the discussion about raising other people children was really fierce. Some even wrote that if a child speaks to a parent by her/his name, it may be related to mental disorders. Another accusation was the recording of an instastory, which meant that instead of devoting herself to children, work or anything else, a person did nothing but reporting her life on the Internet. Unfortunately, the haters do not take into account that Instragram allows to publish a hundred such videos, each with a maximum length of 20 seconds. Even when using this limit every day, it is about half an hour of the whole day.
Another example of online hate could be observed on the profile of a doctor, who publishes many mini lectures on various topics in the field of medicine, runs a series of questions and answers. She recorded materials on facts and myths about coronavirus, about how to deal with a pandemic and many other recommendations in line with other medical professionals and specialists. It is worth mentioning that she is an incredibly energetic and smiling person. She also runs her company that sews medical clothing. Advertizing her products, she recorded several videos of how she is dancing. She is dancing, laughing and presenting her products. Nothing harmful. However, there were allegations that she is unprofessional, that it is inappropriate for a doctor to behave in this way, and there were also some name-calling that we won't cite.
While reviewing subsequent accounts of actors, actresses and journalists we encounter criminal threats directed at them. One of the actresses is vegan, so she deals with comments accusing her of fad. Another person publishes a photo of the family dinner which includes meat, and is dragged through the mud, because she is insensitive to animal suffering.
It is puzzling that haters are watching people whom they don't like and are wasting their time writing malicious comments. Hate is not something new, but this phenomenon is increasing in strength.
During the I click sensibly #keepCTRL campaign, we asked pupils the question: who do they think hates most? at what age are these people? In every class, the answer was the same: this is us, the teenagers. We look for youth through the this kind of prism – the Internet and social media are their reality, so hate definitely concerns only young people. Nothing could be further from the truth. Everyone can be a hater, regardless of age, gender, education or social status, just like he can be a hate victim. Before we post a comment on the web or decide to behave in a certain way, let's think about whether we are actually expressing our opinion and whether someone asked for it? Whether our comment or our behavior will hurt someone? We don't really need much to live better.